The Melbourne Cricket Club's Crested Carpet

Only a lucky 30 (15 Left) will get a chance to own the footy 'Holy Grail'. Think of it! The carpet that legends have walked could be hanging behind your bar or in your footy club!

It is extremely rare for items like this to be made available and, being so limited (only 30 available), they're considered priceless. Saved from the Ponsford Grandstand (1968-2002), individually numbered & accompanied with a certificate of authenticity, this truly is an awesome piece of sporting history!

Make your mates jealous with:

1) MCC Crested Carpet
2) Green Numbered Seating
3) MCG Photo & plaque
4) ALL Framed (as pictured)
5) and we'll shout the POSTAGE!

Normally valued at over $987!!
WE WON'T MAKE YOU PAY THAT MATE!

Mate's Rates Only $697

It can be yours…


*SOLD OUT*

Order Now & Receive A Free Bonus!

If you're one of the first 15 people to order you will also a BONUS piece of the world famous green timber saved from the Ponsford Grandstand demolition (Valued at $49.95).
Absolutely Free!
---
'Love It' Or 'Shove It' Lifetime Guarantee!

I want you to tell all your mates to get
their hands on a piece of the MCG. So,
if you're 100% happy, let me know and
I'll refund your cash no questions asked.
I can't be any fairer than that!

Once you see how good it looks in your home, office or bar, you won't want to send it back.
---

Don't procrastinate...
Don't "bookmark us to come back later". It can be yours…


*SOLD OUT*

Relive your favourite MCG memories and
Own Part Of Footy History!

*Perfect for home, bar, office or footy club fundraisers.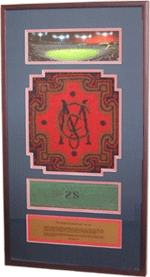 Limited MCG Premier Frame
Size: 900x410mm



Bonus Green Timber!